Description
MusicCast
MusicCast is a new revolution in network audio, use all your MusicCast products together or separately, it's completely up to you. Control it, all from one app, designed to be intuitive, quick and simple to use. Use a soundbar, a wireless speaker, an AV Receiver, Hi-Fi audio whichever suits you best, mix and match then expand your MusicCast system as time goes on. All new from Yamaha, the MusicCast system brings everything to everywhere for everyone.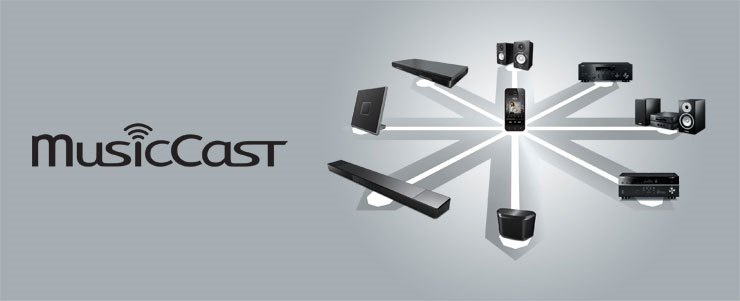 MusicCast Expands Entertainment Possibilities
MusicCast employs a high performance wireless network to deliver music and audio enjoyment. It can stream digital music content from your smartphone, PC or NAS to other MusicCast devices in your home. It can also share the music from external devices such as a TV or Blu-ray Disc™ player connected to the RX-V481. Audio content from Bluetooth®-connected smartphones or tablets can also be streamed to MusicCast devices in multiple rooms.

AirPlay Allows Streaming Music to AV receiver
This AV receiver supports AirPlay, which means they can accept wireless music streaming from iPod touch®, iPhone® or iPad®, as well as from iTunes on Macs or PCs. This makes it easy to enjoy music from your mobile devices or computer on your home theatre system. You can use view metadata such as song title, artist name as well as album art* via AV receiver's on-screen display.
*Some models don't support album art display.
HD Audio with CINEMA DSP 3D and Virtual Presence Speaker
CINEMA DSP 3D provides a wide, high and dense sound field. HD Audio format decoding lets you enjoy HD Audio sources. Virtual Presence Speaker delivers 3-dimensional sound without actual use of presence speakers.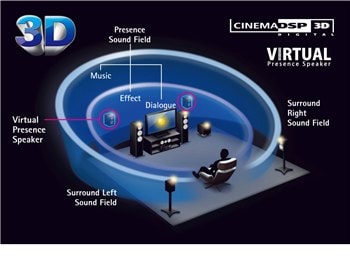 4K Ultra HD Full Support with 4K60p, HDCP2.2, HDR Video and BT.2020 pass-through
This AV receiver completely supports with the latest HDMI® standards. Thanks to transmission of 4K video at 60 frames per second pass-through, you can fully enjoy the high definition video quality of 4K without degradation. It also adheres to the HDCP2.2 copyright protection standard for 4K video transmission. It also supports HDR (High Dynamic Range) Video which provide enhanced picture quality by simultaneously enabling greater detail for both the dark and bright parts of an image. Furthermore it supports wider colour gamut of BT.2020 pass-through.
AV Controller App for Easy, Convenient Operation
This AV receiver lets you use the Yamaha AV Controller app that is downloadable from the iTunes App Store or Google Play to control power on / off and volume, select input and DSP modes and operate other functions from an iPhone or Android devices. You can also use in as many as 23* different languages and customise the interface by hiding unused icons and renaming functions. A tablet version is also available.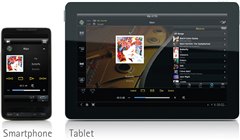 Bluetooth Output for Convenient Music Streaming
The RX-V481 is equipped with the latest Bluetooth technology, making wireless operation more convenient than ever. You can stream music from the RX-V481 to Bluetooth headphones for private listening or to Bluetooth speakers.

Compressed Music Enhancer
When music is encoded into a digitally compressed format like MP3, the frequency response suffers. Yamaha's Compressed Music Enhancer employs sophisticated digital signal processing using exclusive algorithms to restore what was lost, so the music always sounds the way it should.

Discrete Amp Configuration for High Sound Quality
This AV receiver was designed with a strong focus on achieving exceptionally high sound clarity. It employs a discrete amp configuration and a low jitter PLL circuit, which contribute to its excellent audio performance.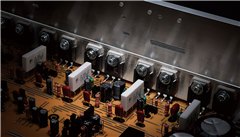 5.1-Channel Home theater Package
These suitably sized speakers deliver a full-bodied, well-balanced sound. Affordable yet high quality, the NS-P40 is an excellent choice for setting up a home theater.
Advanced YST II for Awesome Deep Bass
Yamaha's newly developed Advanced YST II (Yamaha Active Servo Technology II) combines negative-impedance and constant-current principles to drive the speaker cone with even tighter control than previously. Using Advanced Negative Impedance Converter (ANIC) circuits, this system dynamically optimizes effective speaker impedance to maintain excellent linearity. This means more stable and accurate low range response, not to mention higher sound pressure levels, for more natural and energetic bass reproduction.
---
Glossy Black Cabinets
The glossy black speaker cabinets are designed to complement the appearance of most of the latest flat-screen TVs.
YHT-4930EU
AV Receiver
Amplifier Section
Channel
5.1
Rated Output Power (1kHz, 1ch driven)
115 W (6 ohms, 0.9% THD)
Rated Output Power (20Hz-20kHz, 2ch driven)
80 W (6 ohms, 0.09% THD)
Maximum Effective Output Power (1kHz, 1ch driven) (JEITA)
145 W (6 ohms, 10% THD)
Dynamic Power per Channel (8/6/4/2 ohms)
– / 110 / 130 / 160 W
Surround Sound Processing
CINEMA DSP
Yes (3D)
DSP Programs
17
Dialog Level Adjustment
Yes
Virtual Presence Speaker
Yes
Dialogue Lift
Yes
SILENT CINEMA / Virtual CINEMA DSP
Yes (Virtual CINEMA FRONT)
Dolby TrueHD
Yes
Dolby Digital Plus
Yes
DTS-HD Master Audio
Yes
Audio Features
Compressed Music Enhancer
Yes (incl. enhancer for Bluetooth)
YPAO sound optimization
Yes
Adaptive DRC (Dynamic Range Control)
Yes
Initial Volume & Maximum Volume Setting
Yes
Bi-amp capability
Yes
Audio Delay
Yes (0-500 ms)
192kHz/24-bit DACs for all channels
Yes (Burr-Brown)
Video Features
4K Ultra HD Pass-through
Yes (4K 60p 4:4:4)
HDMI 3D passthrough
Yes
HDMI Audio Return Channel
Yes
Deep Color/x.v.Color/24Hz Refresh Rate /Auto Lip-Sync
Yes
Connectivity
HDMI Input/Output
4 / 1 (HDCP2.2, HDR and BT.2020 compatible)
HDMI CEC
Yes
USB Input
USB Memory, Portable Audio Player
Network Port
Yes
Wi-Fi
Yes (with Wireless Direct)
AirPlay
Yes
Bluetooth
Yes (SBC / AAC)
Front AV Input
USB / Mini Jack
Digital Audio Input/Output: Optical
1 / 0
Digital Audio Input/Output: Coaxial
2 / 0
Analog Audio Input/Output
4 (front 1) / 0
Composite Video Input/Output
4 / 1
Preout
Subwoofer
Headphone Output
1
Tuner Section
FM/AM Tuner
Yes
User Interface
On-screen display
Yes (colour OSD)
SCENE
SCENE (4 sets)
App Control
Yes (iPhone / iPad / Android phone / tablet)
Remote Control Unit
Yes
Zone Control
Zone B Output
Yes
General
Standby Power Consumption (IR only)
≤0.1W
Auto Power Standby
Yes
ECO mode
Yes
Dimensions (W x H x D)
435 x 161 x 327 mm (with antenna: 435 x 225.5 x 327 mm); 17-1/8" x 6-3/8" x 12-7/8" (with antenna: 17-1/8" x 8-7/8″ x 12-7/8")
Weight
8.1 kg; 17.9 lbs.
NS-P40
Package Speaker
Channel
5.1
Speaker System
System Frequency Response
30 Hz–25 kHz
Impedance
6 ohms (without subwoofer)
Front Speaker
Type
Full-range bass-reflex
Driver
7 cm (2-3/4") full-range cone
Nominal Input Power
30 W
Maximum Input Power
100 W
Sensitivity
83 dB/2.83 V/1 m
Dimensions (W x H x D)
112 x 176 x 116 mm; 4-3/8" x 6-7/8" x 4-5/8"
Weight
0.59 kg / unit; 1.3 lbs. / unit
Center Speaker
Type
Full-range acoustic suspension
Driver
7cm (2-3/4") full-range cone
Nominal Input Power
30 W
Maximum Input Power
100 W
Sensitivity
84 dB/2.83 V/1 m
Dimensions (W x H x D)
276 x 111 x 118 mm; 10-7/8" x 4-3/8" x 4-5/8"
Weight
0.73 kg; 1.61 lbs.
Surround Speaker
Type
Full-range bass-reflex
Driver
7 cm (2-3/4") full-range cone
Nominal Input Power
30 W
Maximum Input Power
100 W
Sensitivity
83 dB/2.83 V/1 m
Dimensions (W x H x D)
112 x 176 x 116 mm; 4-3/8" x 6-7/8" x 4-5/8"
Weight
0.59 kg / unit; 1.3 lbs. / unit
Subwoofer
Type
Advanced YST II with Linear Port
Driver
16cm (6-1/2") cone
Output Power
50 W (5 ohms, 100 Hz, 10% THD)
Dynamic Power
100 W
Dimensions (W x H x D)
290 x 292 x 327 mm; 11-3/8" x 11-1/2" x 12-7/8"
Weight
8 kg; 17.6 lbs.
---